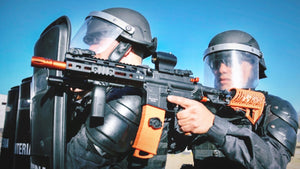 GAIN COMPLIANCE SAFELY AND EFFECTIVELY
Byrna provided a wide range of less-lethal products to Law Enforcement agencies, Security Professionals and Government Agencies globally. We pride ourselves in the fact that our products are, mission critical, accurate, effective, reliable and sustainable. Byrna products help save lives.
DISTANCE EQUALS TIME AND OPTIONS
Byrna's less-lethal options provide users with a broad range of tools to respond to a variety of situations while keeping distance between officers and aggressive individuals. Our .68 calibre and 12 gauge less-lethal options can be accurately deployed at safe distances, mitigating the increased danger of close-quarters conflict.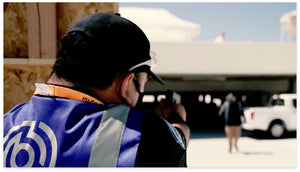 Direct or Indirect Effective Impact
The ability to indirectly deploy a chemical irritant by targeting a solid object near a subject puts the officer at an advantage as no direct line of sight is needed. The Byrna Pepper and Byrna Max chemical payload rounds shatter on impact. Saturating a 3–5-foot area, causing temporary physical effects such as involuntary closing of the eyes, intense burning sensation, breathing difficulty and coughing.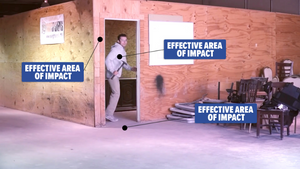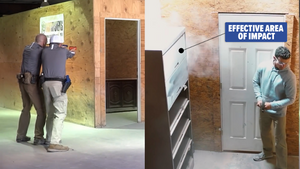 HOW THE BYRNA SD WORKS
The Byrna SD is our most popular Law enforcement product. The body is made from the highest quality glass-reinforced polymers and the rubber over-mold grip improves retention. The Byrna SD is powered by an 8-gram or 12-gram CO2 and uses our proprietary pull-pierce technology. With the first trigger pull, the launcher punctures the CO2 and fires the first round. No hitting or twisting is needed to puncture the CO2 to prepare the launcher and therefore there is no leakage during storage. Similar in size to the standard duty weapon, it uses an interchangeable 5 or 7 round magazine to feed the projectiles. The chemical agent is encapsulated in a .68 calibre round frangible sphere (projectile) and fires at speeds of up to 300 feet per second. Safe deployment minimum distance is 5 feet, and the Byrna launcher is accurate up to 60 feet.
INCAPACITATING CHEMICAL IRRITANT PROJECTILES
Byrna's encapsulated chemical payload projectiles are designed to deliver incapacitating effects. Byrna's high concentration of irritant powders, plus the large dispersion cloud formation upon projectile impact, result in the optimal effectiveness of these Byrna projectiles. Byrna Pepper (OC/PAVA blend) and Byrna Max (OC/CS blend) are available in .68 caliber and will soon be available in 12-gauge shells.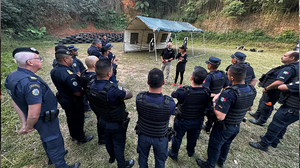 BYRNA LAW ENFORCEMENT TRAINING
The Byrna Law Enforcement division prioritizes training and also contributes to the ongoing professional development of Law Enforcement agencies. The Law Enforcement Division offers national and globally recognized training programs.